Eva Peeters
I live in Ghent (Belgium) with my partner, two daughters and a stray cat. I'm a listener, a talker, a roamer and a maker. I work one day a week as a co-ordinator of Greentrack Gent, a network of cultural organisations that want to work more sustainably. The rest of my time is devoted to a wide range of (temporary) projects, assignments and play, and to frequently escaping to nature. Often these projects involve stepping out of time, on my own or together with others.
More bio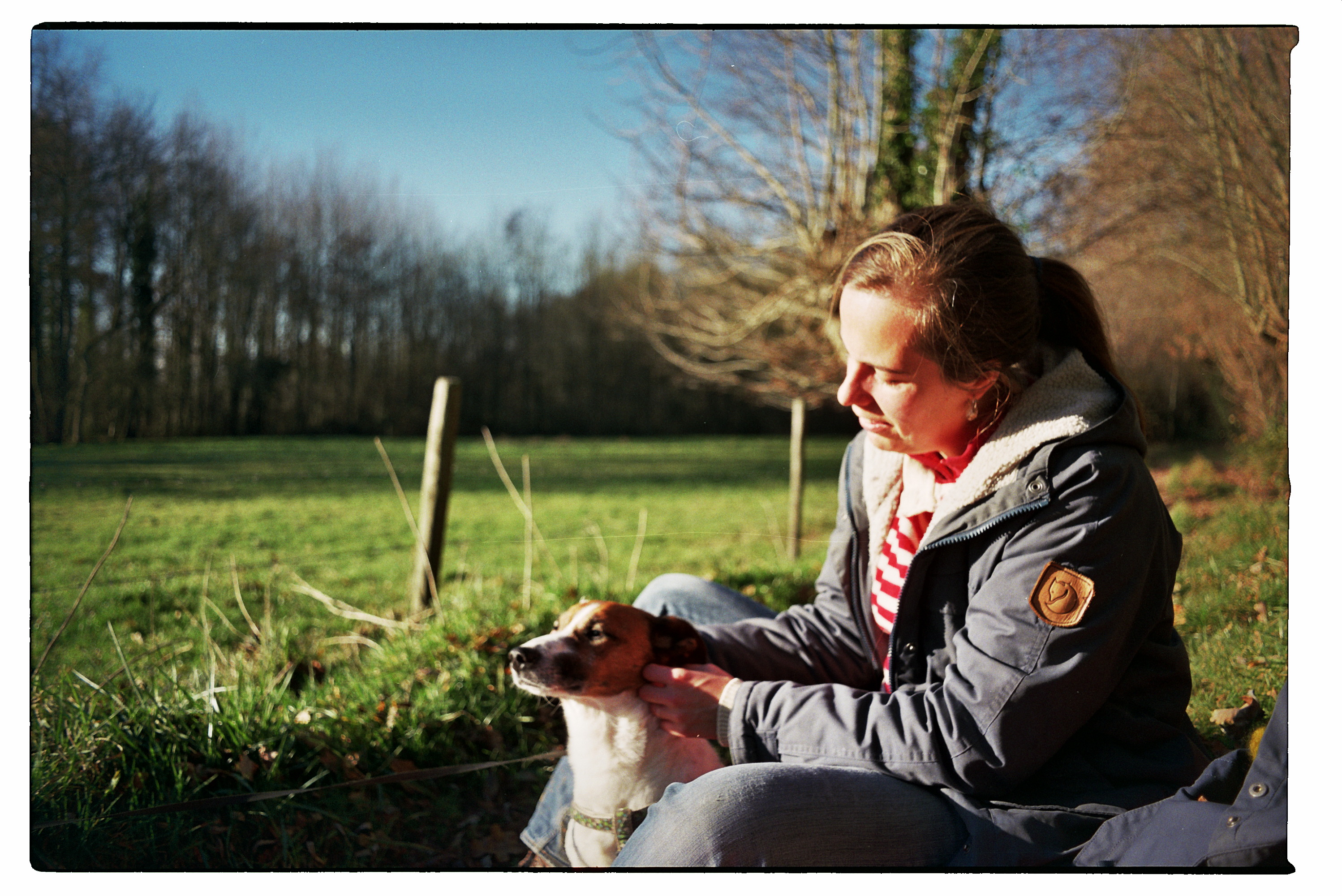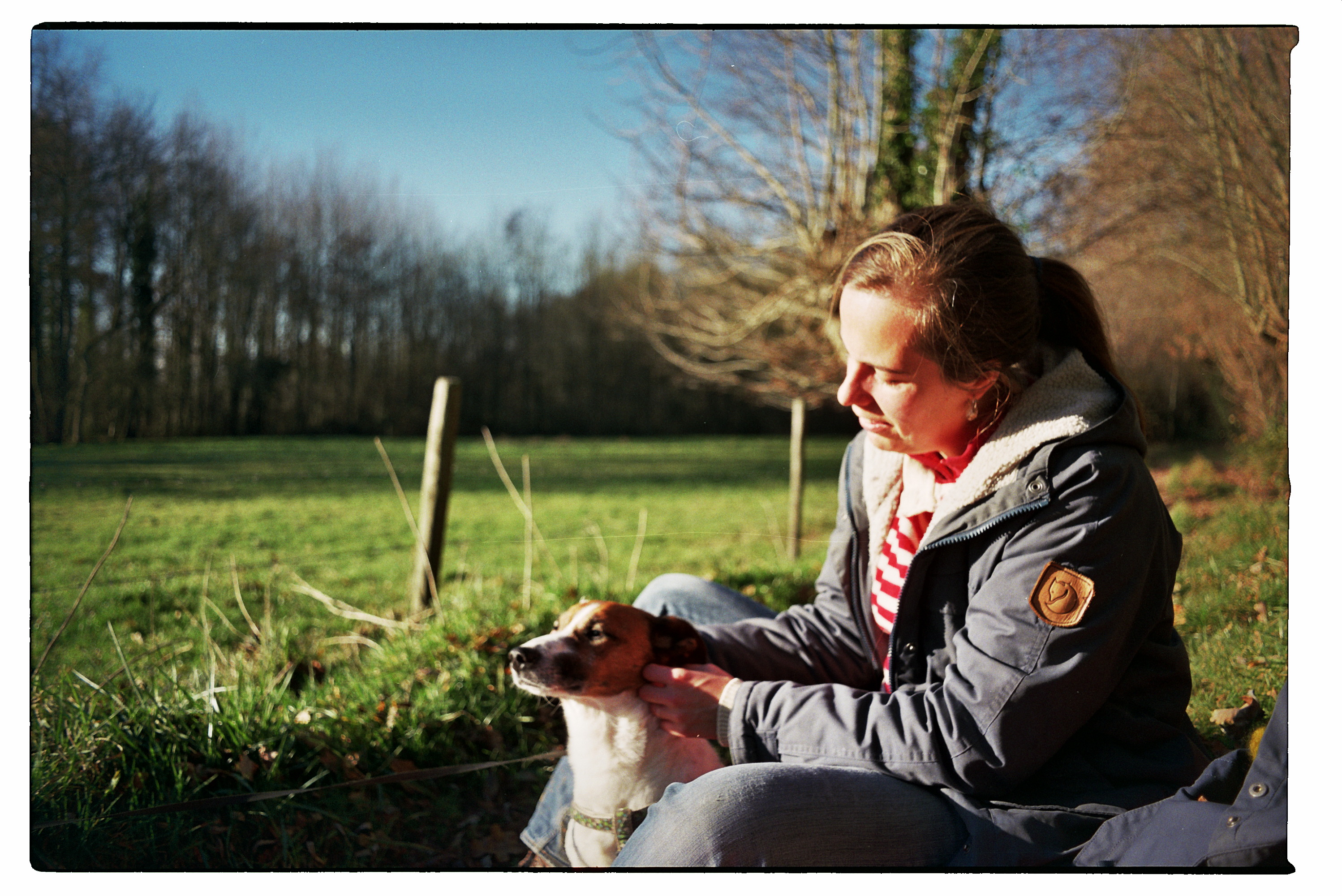 This is what I do:
* Conversations *
Personal sessions of:
Advice: Where do you start when you want to work and live more sustainably?
Coaching: Would you like the mists in your head to untangle so you can connect to your very core, to that which makes your heart beat faster?
Sparring: Do you wish to share a concrete idea or project so we could run through ideas together?
* Silent walks *
I'm taking you out for a day of silent walking in the forest. We travel there slowly and step out of time to connect to nature.
* Photographs *
All my photos are taken with an analogue camera. Prints are for sale in different sizes; on paper, canvas and dibond.
I also work on commission for outdoor, slow photography (portraits, activities).
* Intuitive writing *
I have done a lot of writing of short and inspirational copy for online and print media and I still happily do this.
My heart lies in intuitive writing: tuning in to a subject, sometimes given a few words or lines and out flows a (short) text, often with a slight poetic touch. Could be an invitation, could be a capturing of an event of activity, ...
* Reading and editing copy (in Dutch) *
I have an eye for detail, a love of language and years of practice.
* Translations *
From English to Dutch.
P R A C T I C A L D E T A I L S
Contact me at eva@geis.be or +32 (0)498 46 32 14 for any of the above, or more information.
Price: I have an hour and day rate for regular projects. However, I value my time in other means as well as in money. Depending on the assignment or project, I do negotiate payment. If anything, it is a perfect exercise in rethinking our relationship to money and property – mine as well as yours.
BTW BE0683.939.575
Let's get lost v.o.f.
Vincent Evrardlaan 12
B-9050 Gentbrugge
More bio
My working life has meandered from the topics I studied at university to the wider fascinations that hid underneath that education. I have worked in a chemical multinational, helping out Scandinavian customers with last-minute or lost orders of engineering plastics and car paint. I've analyzed and defined Swedish, Danish and Norwegian phonemes for a company specialised in speech technology. I have co-designed websites and filled them with written content. I worked for art festivals, writing copy and dealing with journalists. I co-edited a cultural magazine for 10 years and copy read endless amounts of inspiring and critical texts. It sharpened my own pen. I worked for years behind the scenes in the visual arts, where I gradually began to develop a deep interest in sustainability and the role of culture in the transition towards a sustainable society. I co-founded two networks for culture and sustainability – Pulse Cultural Network for Transition and Greentrack Gent. Today, I co-ordinate the latter, linking more than 50 cultural organizations in Ghent and assisting and inspiring them to switch to a more sustainable practice and to engage their audiences and partners in this process as well.
If you are keen for some more dry data, visit linkedin.
My philosophy
Throughout my working life, I developed an ever-growing curiosity for processes of change. While at first I focused on 'directing' change, I now try to adopt a perspective of surrender, of letting go. I'm still fascinated by change, but I now see it more as a dynamic, circular path or an ebb and flow from stillness to transformation and back. Rather than grasping and controlling, I try to float still on the tides of life.
Along the way, I have made a few radical decisions in my life, stripping it to an essence of integrity and connecting. This means that I try to live the dream I have of a different society and a more fulfilled life within that society. Sustainability is a strong guiding principle as well as creating balance. Between mind and body, inside and outside, solitude and sociality, silence and sound, rest and activity, nature and city, initiative and reaction, giving and receiving, research and playing, dark and light, sun and moon … And through it all, I want to play and create beyond any purpose, except to enjoy this enchanting life.
Co-creation
Together we are often stronger and more creative then alone. Depending on the project or assignment, I sometimes work together with like minds. My compagnons de route are e.g. Eva De Groote, Marijn Dionys, Kathleen Melis, Barbara Raes, Joke Vangheluwe, Katrien Annys, Rasa Alksnyte, Ruben Nachtergaele, Stevie Wishart, Kim Leysen/ Mme Zsazsa, ...
The wishing well
Many ideas are bubbling in my head, some of which I'd like to start on sooner rather than later …
Sustainable living
In 2013 I wrote a book in Dutch about how you can make your life more sustainable: Groeten uit Transitië (Standaard Uitgeverij). I collaborated with a few wonderful friends who share my love for the unorthodox, for enthousiastic and at times naive experiments for the greater good, for 'zelfrelativering' and a general joy in life: Mme Zsazsa, Dorien Knockaert, Kristien Hens, Joke Rous.
What does it look like for me?
I'm a vegetarian and eat organic and seasonal food as much as possible. We harvest most of our vegetables ourselves on a CSA farm 5 km away. We cycle every day and use public transport. Only on occasion we use a shared car from one of the largest car-sharing groups in Flanders. I don't fly and haven't flown in 11 years. Never say never, though. If I or my family travel/s, it is often by rail or by car or a combination of both. We live in a passive house which means it has a high energy efficiency and it doesn't need much extra heating. The house was/is relatively affordable because it is (to Flemish standards) a modest size and was largely built and furnished by my wonderful partner, who can build whatever I dream of. Electricity is our only source of power, and it is 100% renewable. There's no extra heating and we use about 4000 kWh a year. Just a few months a year we are a little cold. By 'we' I mean mostly me. I then wear thermals and cuddle with hot water bottles and blankets while I patiently long for the slowly mounting spring sun. My clothes will be often either fair trade and/or of organic fabric, second-hand or self-made. When I need something, I try to borrow it first, buy it second-hand or go for the most sustainable option. Our money is in one of the more ethical banks and if we invest money, it would be in sustainable enterprises. We try to reduce our waste and separate the waste we have, avoid (micro)plastics and (re)use material wisely. To stay clean we use biodegradable products. This means e.g. that I wash my hair with baking soda and vinegar and make my own deodorant from a mixture of coconut oil, baking soda and – surprise – cornflower. I could go on for a while, but I might bore you out.
Some people still wonder whether this means I'm giving up more than I'm gaining. I can only say that it has given me more peace of mind, freedom, balance, a strong belief in my own strength and resilience and an intense joy in the magic of the small. Often enough, I fail in my attempts. Or I overrule a principle or two. Principles are a dynamic thing. They are not meant to lock us up inside life-long constructs of strictness. The art of a connected life is constantly debating with yourself, weighing and feeling whether choices still fit you and your outlook on life.